Many of these companies us the ExpressTrain Suite for documentation of import/export shipping procedures, tracking of package shipments and warehousing, and operating instructions for equipment such as cranes at shipping ports. ExpressTrain provides these companies with consistent Standard Operating Procedures (SOPs), Work Instructions, plus Training and Job Aids. A few examples are provided here:
PANALPINA (LOGISTICS)
Use: Expresstrain for documentation and training on software rollout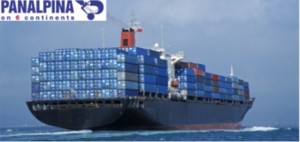 Headquartered in Switzerland, with offices throughout the world. Offering forwarding services, along with logistics support and supply chain management. The Panalpina Groupoperates a global network with some 500 offices in more than 70 countries, and it works with partner companies in a further 90 countries. Panalpina employs over 16,000 people worldwide who deliver a comprehensive service to the highest quality standards – wherever and whenever.
PANAMA CRANES (MITPAN) (PANAMA CANAL)
Use: Expresstrain for sops for remote controlled cranes, plus training and job aids
MIT offers efficient and reliable port services to shipping lines transiting the Panama Canal, the waters of the Caribbean and the Atlantic coast of South America. Harbor facilities, located in an attractive location at the Atlantic entrance of the Panama Canal, including transshipment services and a logistics park running 24 hours a day, 7 days a week.