Client:
United States Department of Agriculture
U.S. Embassies needed a way to deliver information on new software worldwide.
Princeton Center created the information program to support the worldwide rollout of applications by USDA's Foreign Agricultural Services division. In just 45 days, Princeton Center provided the USDA with 11 desktop information modules for distribution to 150 embassies around the world. So successful was this project, Princeton Center was asked to design and develop additional information modules for the USDA/FAS division.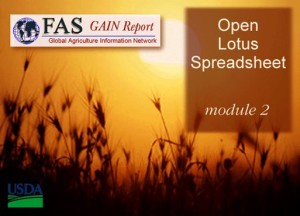 Desktop Software Application Information Modules:
Delivery: just in time training
Quality look and feel
Non – Studio produced video/audio
Seat time: 4 hours
Instructional design – used Information Mapping Methodology to storyboard
The USDA has adopted this technique as the main information transfer development process for the Foreign Agricultural Agency. Due to cost savings and budget reduction the USDA intend to expand its use to the Internet for worldwide on-demand delivery
Become our next Case Study